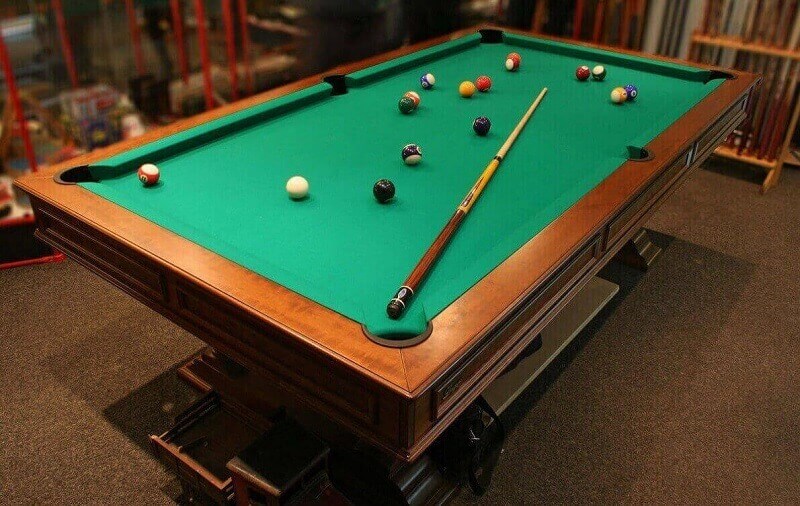 Moving a pool table requires perfection and experience. "Auckland Movers Packers" Pool table Movers Auckland has that! Our Pool table Movers are successfully carrying out this work with professionalism and expertise. They are skilled, experienced, and resourced.
Moving a Pool table is not easy. And when you don't have the necessary skill set or experience the task becomes very difficult and risky. If you are moving your pool table either across the road or intercity you have to have a large vehicle to take it around the city. So the best way that can reduce your tension and complication of moving it on your own, is to hire a moving company. Not only will it lessen the risk of damage while moving, but also throw away your stress.
Our expert Pool table removals Auckland team has relocated more than 1200 pool tables to date. They are working for 5 years in the removals industry and one of the best mover's teams in Auckland. Our pool table movers Auckland team are widely known and recommended, because of the quality services we are giving from 5 years now. Our Pool Table removals are cheaper yet high in qualities. We provide House Movers as well as Provide single item movers and packers services in Auckland.
"Auckland Movers Packers" has done an abundance of relocations in New Zealand and we understand what it is to move someone's expensive property safely and securely. It needs the right equipment with the skills to carry out the pool table removal smoothly and cautiously.
Reliable and Safe Auckland Pool Table Movers
How our pool table movers move a pool table?
A series of steps involved in moving a pool table and making it a success. But the most important point here is the pool table cannot be moved easily without any professional skill set.
Pool Table Moving Supplies
A Staple puller
Flathead screwdrivers
Socket Wrench
Drill machine
Resealable bags
Moving Blankets
Heavy-duty Plastic tape
Moving straps/ Lifting straps
Wooden Dollies
Right Truck
Pool Table Dismantling
A pool table is a giant piece of furniture, and so moving it as a whole would be quite risky as well as difficult. This daunting process has to be carried out professionally. The right equipment, right techniques, 4-6 men, a right sized moving truck, storage facility with insurance, etc. are few requirements that people look for.
So how do we dismantle a pool table? We start by picking out the pockets with the help of a flathead screwdriver or a staple puller. Now with the help of a regular socket wrench, we remove the railings. Now we open the staple of the felt and once we remove it, we will secure it aside. Now we will remove the slate and gently put it in the moving vehicle. Now remains the wooden frame. Our Pool table movers Auckland will now remove the legs. Both will get easily detached with the help of a power drill. If the pool table frame is complicated and cannot be dismantled, we use wooden dollies to load it through the ramp.
Pool table Packaging and Moving
Now the nuts, bolts, screws, staples are secured in resealable plastic bags. Our Pool table movers Auckland team use moving blankets to pack the wooden parts and secure it with the tape. Our strong men will first load the slate, then the frame. Felt is boxed with the plastic pouches containing the hardware. Our Pool table Movers are proficient in moving your bulkiest furniture with ease at complicated architectures.
Our Professional Pool table removals Auckland Services
Skilled Manpower
"Auckland Movers Packers" Pool table Movers Auckland has one of the best teams, which ensures that your painstaking moves could become less complicated and stress-free. They are skilled in packing, cleaning, dismantling, and moving services. They possess the ease of handling special furniture like a pool table, piano, bathtub, etc. Our Furniture Movers are never short on time, know local and intercity maps, polite, coordinative, and devoted.
Right equipment
The right equipment is one of the stairs to a smooth move. "Auckland Movers Packers" Pool table movers Auckland team use the right equipment for dismantling and moving your valuables. We know when to use a socket wrench when to use a power drill and not a screwdriver. From a small staple puller to large dollies, we have everything needed to make any move, a success. Our movers are skilled in using such equipment.
Best Techniques
How to strap giant furniture into the lifter? How to fasten the furniture correctly so that it won't open or fall? How to pack the furniture so that it won't get damaged or dents? Every question has the same answer, professional techniques! Auckland Movers Packers' Pool Table Movers Auckland uses an effective and efficient set of techniques for the best results. This also helps in cutting down the cost and gives an extra competitive edge.
High-quality Packing Material
When you hire "Auckland Movers Packers" Movers and packers Auckland, you are hiring value for your money. Our professional packers are trained in packing even the most complicated furniture with ease. Talking about the quality of packing material, "Auckland Movers Packers" furniture movers have their own customized range of packing material. From your most delicate fragile to your giant pool Table, we have suitable packing materials for every item.
Why should you book our pool table movers Auckland services?
Experienced Movers
When you are paying for it, you have all the rights to get experienced and reputed Moving Company. We take pride to say that "Auckland Movers Packers" Pool Table Movers have successfully done 1200 plus Pool Table Movers in Auckland. We have a removals history of 5 years. Such a vast length has made us gain trust among our customers and our quality service has kept us standing in the removals industry with a mark.
Successful Record
Our Moving Company has acquired triumph in the removalists field by the services we have given to our customers. Our track record shows it all. "Auckland Movers Packers" Furniture movers provide you with the best moving options like instant removals, intercity moving, storage facility, large network, pre, and post-cleaning services, trade me deliveries, office relocations any many more. Our attributes like being on time, fully resourced, our comprehensive range of service, and our dedication towards the work have made us win reliance and dignity in the furniture removals industry.
Affordable and Customized Services
"Auckland Movers Packers" Furniture Movers Auckland offers unique facilities like Man and van, 2 or 3 men with a van or truck, single item movers and packers, trade me deliveries, house packing services, commercial deliveries, local and intercity removals, pre-moving checklist planning, packaging material supplies, custom crating, pet relocation, vehicle relocation, permanent storage houses, pre, and post-cleaning services and a lot more, all these services at your doorsteps at a very impressive and economical price.
Fully Resourced
"Auckland Movers Packers" Pool Table Movers Auckland, have all sized moving vans and trucks for your highest convenience. Truck sizes with their payload: 3 Tonne trucks which hold 18 cubic meters of furniture, 4.5 Tonne Truck which holds 24 cubic meters of furniture, 9 Tonne trucks which hold 42 cubic meters of furniture. We have every essential tool to move your furniture with ease.
Pool table Movers Auckland offers you a convenient storage service
Whether you want to store a few boxes or a large pool table, "Auckland Movers Packers" provide storage services in every vital hub of the city which is accessible, safe, and convenient.
Storage Safety Measures
24*7 working shifts
CCTVs and State of the art alarm system
Real-time monitoring and access
Computerized entry and exit databases
Fire alarm, burglar alarm and door card locks
Mandatory Safety wear like hard hats, gloves, safety shoes, etc.
Furniture lifting dollies and trolleys like a forklift and hydraulic jack
Temperature controllers and ACs
We provide both temporary and permanent storage facilities. If you want to store your pool table for less than 90 days, than we store it into our temporary storage, after 90 days, the property is moved to permanent storage.
Storage and Transit Insurance
"Auckland Movers Packers" Furniture Moving and storage Company provides indemnity insurance which means that if your belongings get damaged or lost during the transit or in our storage house, we will compensate the true amount of your value which will also include its age and condition. For more information contact us at +64 9801 3950
Frequently Asked Questions on Pool table removals services
You can mail us on our mail id or fill the form on our website's contact page. We will respond to you between 1 hour-48 hour. Generally, it's done between 24 hours. For an instant quote, you can contact us right now at +64 9801 3950.
Yes. We disassemble the pool tables from moving. "Auckland Movers Packers" has high quality and sufficient tools and equipment to disassemble the pool table. We safely disassembled and reassembled when we reached the destination.
We do House removals, intercity removals, office removals, piano and pool table removals. Whether you are moving some boxes or a 5-6 bedroom house we are always ready with our professional and resourced team.
Yes. "Auckland Movers Packers" Pool table Movers removes the felt with utmost care and patience that you surely don't have to worry about it being torn or ripped. We again place it with the help of staples or stick it again with the help of felt gum.
Yes, we provide secure storage for the pool table. You can store it for as long as you want. We provide month to month for pool table rentals.